NEW: What Saints' Alvin Kamara Reportedly Told Police About Vegas Altercation & Why It Could Be Problematic For Self Defense Claim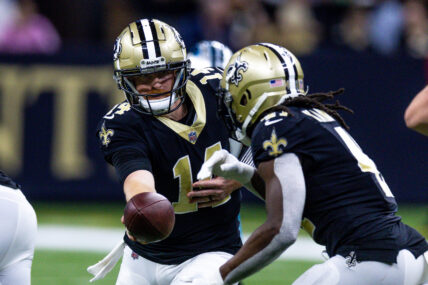 Stephen Lew-USA TODAY Sports
Newly obtained police documents provide more details about the circumstances leading up to New Orleans Saints' Alvin Kamara's arrest. Kamara is facing serious charges for an alleged assault on a man named Darnell Greene which occurred in Las Vegas prior to the Pro Bowl. The Saints running back is currently charged in Nevada with felony assault for allegedly repeatedly punching Greene. If convicted, Kamara faces a maximum of five years in state prison.
As League of Justice reported, Kamara pled not guilty earlier this March to felony assault charges. The charges stemmed from his alleged involvement in the 2022 assault of Darnell Greene at Drai's nightclub. Greene alleges that Kamara put his hand on his chest and when Greene pushed it away, Kamara and the other men in his group began striking Greene repeatedly. Greene suffered numerous injuries, including a fracture to the orbital bone of his right eye. He filed a civil suit against the Saints running back last October seeking $10 million dollars in damages.
According to the Detective's file, Kamara spoke with Nevada police at Allegiant Stadium on February 6, 2022 following the NFL Pro Bowl. Kamara told the investigating detective that he was with his girlfriend and a few friends waiting for the elevator to leave a club.
"Kamara said he was with his girlfriend Tea, his assistant Reagan, and a couple of his friends… While they were waiting for the elevator to open so they can leave the club, they were hanging out talking. The elevator opened and they all started to walk in," the police notes read. "Kamara remembers Greene calling one of friends ugly and then later said 'I'II whoop your ass too.' Kamara said he saw a fight break out next to him and he saw Greene get punched. Kamara threw a couple punches, thinking the guy was running away. Kamara doesn't remember if he punched Greene while he was on the ground. It was a congested area and hard to see what was going on. I presented Kamara with photos from that night. Kamara pointed out himself, Percy, and Darrin to give us an idea who everyone was."
The detectives notes continue, "When asked why Kamara punched Greene, Kamara indicated he thought Greene was running away and had done something to his group so he chased and punched Greene several times. The video disputes this showing that Greene was not running."
Before giving the statement, Kamara was reportedly advised of his Miranda rights and agreed to talk, the detective claimed. If true, then Kamara's statements to police, including alleged admissions that he punched Greene, can be used by the Las Vegas prosecutor's office as evidence during a trial.
Video surveillance viewed by the detective and later obtained and released by TMZ "disputes" Kamara's account, according to the police records. The police files claim that the video provides a "showing that Greene was not running away but had in fact just been punched by Kamara's associate and then Kamara immediately attacked him."
"After looking at surveillance, the story is exactly like how Greene describes the attack," the detective writes. "The video shows Greene being attacked by a total of four suspects
Kamara was at the front of the group approaching the elevator and Greene was to the side and speaking with a female. The elevator doors open, and they all begin to merge towards the elevator. Kamara puts his hand on Greene's chest and Greene pushed it off. Kamara pushes Greene and then another male, next to Kamara punches Greene in the face and knocks him back against the wall. Kamara lunges towards Greene and proceeds to punch him several times."
The police notes continue to describe the video, writing, "Greene falls further back into the hallway as Kamara continues to punch him. Greene gets knocked unconscious and falls to the ground. As Greene is on the ground, Kamara continues punching him three more times. Three others, from Kamara's group, join in and begin stomping Greene in the face, chest, and legs. At no point during this attack did Greene hit, punch or push Kamara or any of his associates. The fight gets disrupted as Drai's security officers begin showing up and pulling everyone back. Kamara and his party get escorted out and to valet where they get into a black Cadillac SUV and leave property."
Kamara's lawyer has attempted to publicly frame the incident as an act of self defense by Kamara, saying, "he intends to vigorously fight the allegations at trial as he was defending himself and others at the time of the incident."
Potentially troubling though for Kamara, is that his own statement to police could be used as an alleged admission and also to try to negate any purported claim of self defense. Kamara alleged that Greene may have insulted one of his friends and/or made a threatening comment. Under Nevada law, words alone would not be enough to allow for Kamara or his associates to act in self defense. Even if Kamara had an honest but objectively unreasonable belief that he or his friends were in danger (what is known as an "imperfect self defense"), it is unlikely that this argument would hold up in court. Kamara himself allegedly admitted to police that he thought Greene was running away, chased after him, and then punched him several times. While police say that the video disputes Kamara's version of events. Even if true that Greene was "running away", it would be very difficult for Kamara to successfully argue he was acting in self defense if he needed to chase after Greene.
To make matters worse, Greene reportedly sustained an orbital fracture to his right eye, and obtained medical treatment at a local hospital. The reported injury to Greene's eye was serious enough that the report acknowledges that surgery might be necessary, and police believed it provided probable cause to charge Kamara with battery resulting in substantial bodily injury, according to the report. A self defense claim requires force exerted in defense be proportional to the force employed offensively.
It is important to note that an arrest and indictment do not equate with guilt and require proof to obtain a criminal conviction at trial. It is entirely possible that there is evidence, that has not been made public yet, that could support a legitimate claim of self defense for the former rookie of the year. But, from what has been released to the public, it appears Kamara's own statements could undermine a self defense justification and be used against him by prosecutors to try to prove his alleged guilt.
A trial date for Kamara has been set for July 31st.
Categorized: LOJ Exclusives NFL Top Stories