Congress Schedules Hearing To Regulate NIL. Big Changes Are Coming At The National Level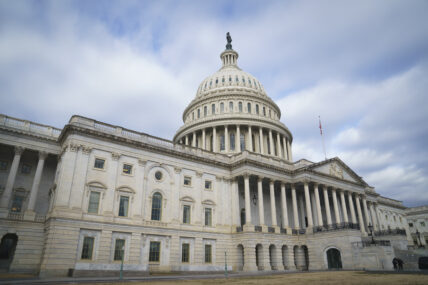 Jack Gruber-USA TODAY
The Congressional House Energy and Commerce Committee informed ESPN earlier today that it is expecting to hold a hearing on the NIL (name, image and likeness) rights of college athletes later this month on March 29th. The hearing could be a major step towards federal legislation regulating how collegiate athletes can profit by selling their rights to NIL.
The hearing wouldn't be the first time the nation's top lawmakers have waded into the realm of college sports. Both the House and Senate held hearings in 2021, but neither chamber was able to come to any consensus on how best to regulate issues regarding NIL rights. Over a half dozen different bills have been proposed in just the last three years that would affect college sports, though none have passed.
The hearing will be led by two Republicans, Representative Cathy McMorris Rodgers from Washington, the committee chair, and Representative Gus Bilirakis from Florida, who chairs the subcommittee of Innovation, Data, and Commerce. The two representatives released a statement that noted the committee hopes to "create a clear set of rules for male and female athletes of every sport to benefit from their name, image and likeness — at both large and small schools in every state — to preserve the future of college athletics."
Prior proposed bills have varied wildly on the impact that it would have on college sports. Democratic lawmakers have tended to favor granting college athletes the right to bargain collectively against the NCAA, the governing body of collegiate athletics, and to form unions. Republican proposed bills have been more limited, with a primary focus on just creating a national standard for NIL rights.
The committee has yet to announce who they will be inviting to testify at the hearing. Regardless of who appears though, the hearing will be the first since former Massachusetts governor Charlie Baker took over as president of NCAA at the start of March. NCAA member schools have allegedly given Baker an express directive to get control over NIL, and to even look towards Congress for help.
Since the Supreme Court ruled in 2021 that collegiate athletes could profit off of their name, image, and likeness, some student athletes have negotiated six or even seven figure deals for the sale of their rights. But while students have benefited financially, some college coaches have expressed concern that the model is not sustainable and is unfair. Legendary Alabama football coach Nick Saban told ESPN that "it's gotten completely out of control and not a sustainable model. It's to the point where you've got these attorneys and agents calling collectives and saying, 'Pay my player a hundred thousand dollars a year,' and then they want their piece of that. They all want a cut." Without a uniform standard for NIL, the landscape of college recruitment has become a patchwork of differing laws across dozens of states.
The frequency of players transferring schools to get better financial deals has become so notorious that Dr. Pepper, a major sponsor of college football, put together a series of commercials aired during college football games last season that lampooned the transfer portal.
The hearing comes on the heels of a lawsuit currently pending in the Third Circuit of the U.S. Court of Appeals. The suit is being brought by a former collegiate football player, who is arguing that college athletes should be considered employees to benefit from certain limited rights under federal law. If so, college athletes would gain rights to minimum wage and overtime pay, though not necessarily the right to negotiate contracts with schools for increased pay for star athletes or healthcare/retirement benefits. To stem the tide of future lawsuits, the NCAA may look to partner with federal legislators on bills that grant certain rights before the courts get even more involved.
The hope from the NCAA is that Congress will craft legislation that provides a clear, national standard for NIL rules and that also ensures that college athletes won't be considered employees of the schools in which they are enrolled. Students will counter and argue for more rights like healthcare and retirement benefits, the right to form unions and collectively bargain for better working conditions, and minimum standards that other college students who are considered school employees enjoy. Whoever gets invited to this hearing will have a tremendous opportunity to make their voice heard to the nation's most powerful lawmakers. Only time will tell if anything gets done.
Categorized: College NIL The Latest